This article refers to the newest version of the QuickBooks Desktop Sync, released to customers starting April 2018.
Work's QuickBooks Desktop Sync enables information to flow between their QuickBooks Desktop account and Work by continuously syncing Clients/Customers information between Work and QuickBooks and during onboarding only sync Job/Sites between Work and QuickBooks. As well as continuously pushing Invoices and Payments from Work into QuickBooks Desktop.
Connecting to QuickBooks Desktop
Admins are paired with an Integration Specialist that will walk through the setup process with them.
To find QuickBooks Desktop Sync, contact Customer Support to get paired with an Integration Specialist and follow the below steps together.
If you are setting up the QuickBooks Desktop Sync for the first time, there will be two main components to getting started:
Downloading the QuickBooks Desktop Sync app
Using the QuickBooks Desktop Sync Setup Wizard
I. Downloading the QuickBooks Desktop Sync App
Navigate to Settings> Integrations> QuickBooks Desktop
Select 'Download QuickBooks Sync' start the download of the QuickBooks Sync installation file.
Note: The Australian version of the download page may vary from the screenshot below.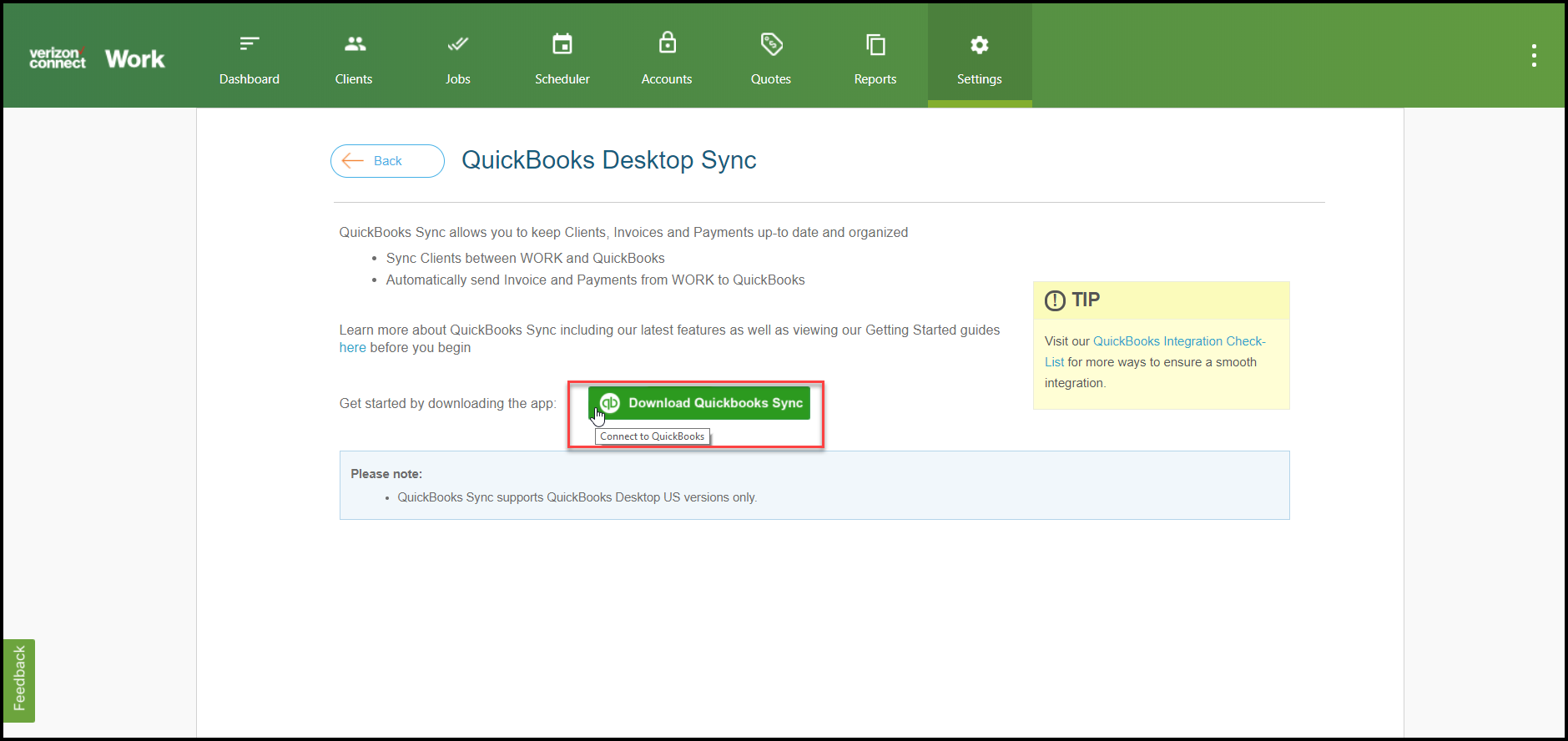 You'll need to agree to the Terms and Conditions before you can Continue. Once you have agreed and select "Install", the installation is automatically started.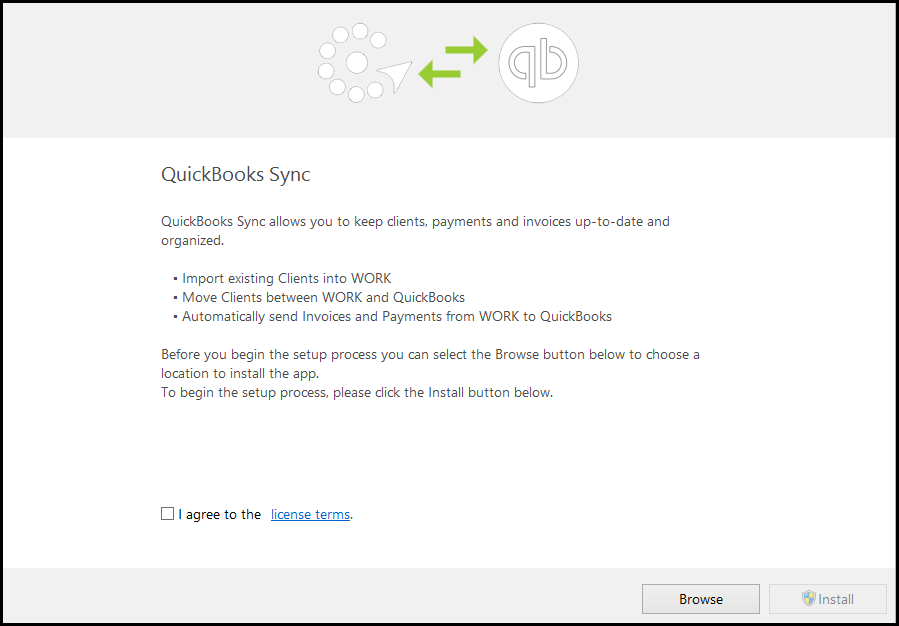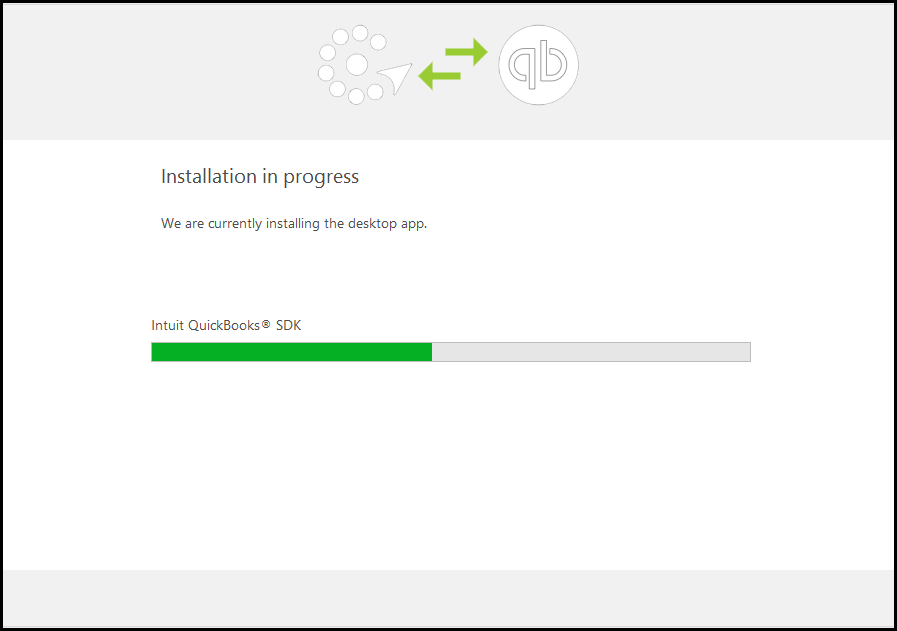 The location of the installation file is automatically selected, if you'd like to install the file in a different location, you can click "Browse" on this page. This is an optional step.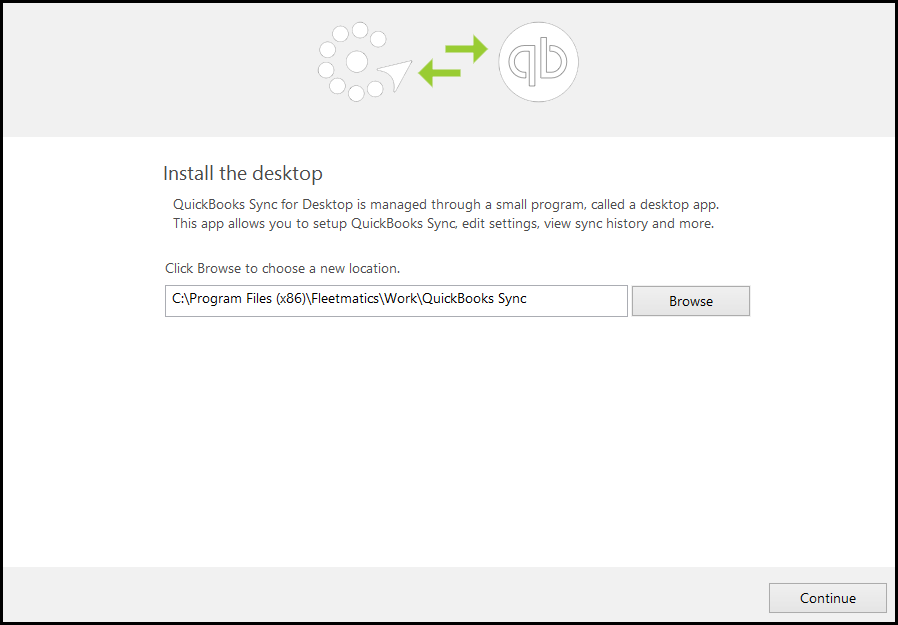 Select "Close" to exit the installation. This completes the first part of the set-up.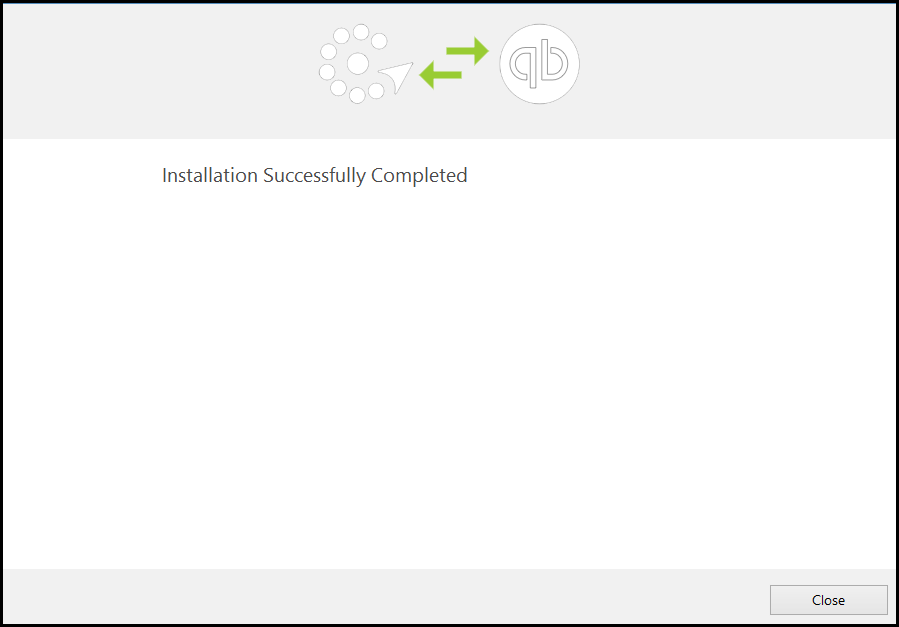 II. Setting up QuickBooks Desktop Sync
You are now ready to set up your preferences for the sync set-up. Click "Begin" to start the set-up process.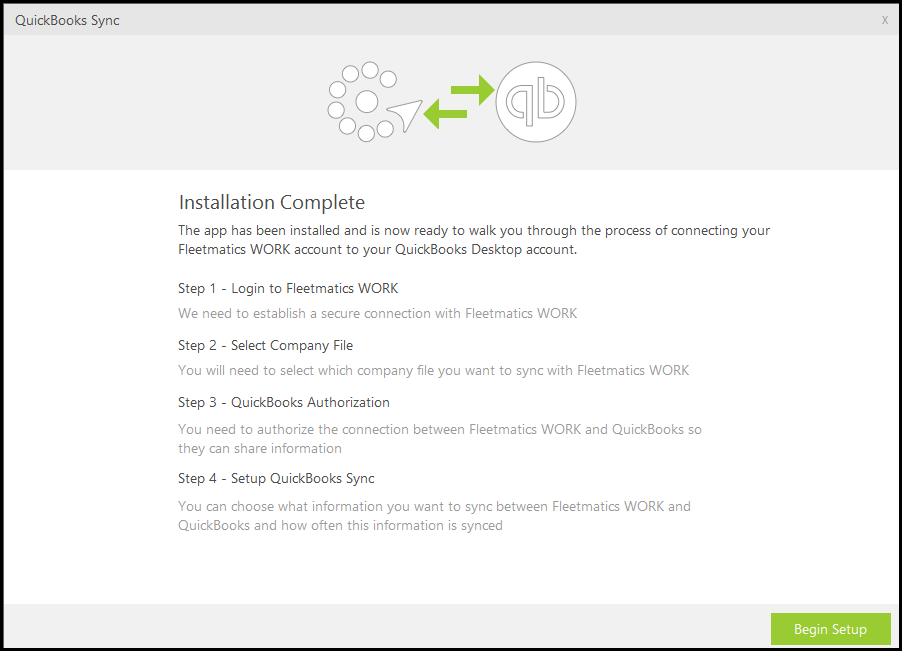 Step 1. Log in
You must log in as an active Work Admin to proceed.
Note: Only Work Admins will be able to complete this step. Users who are Restricted Admins will not be able to set-up the QuickBooks Desktop Sync.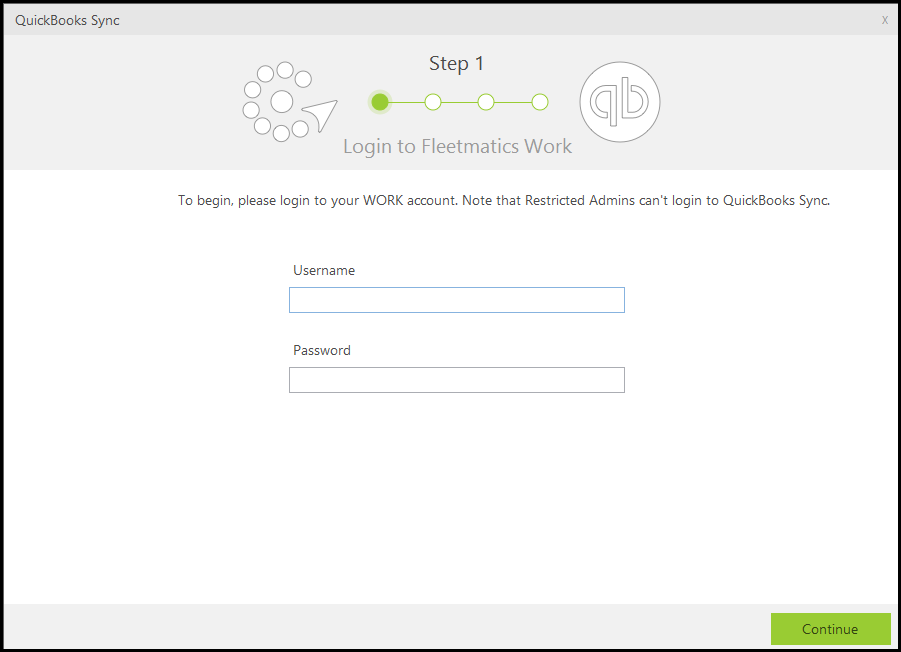 Step 2. Select the Company file
Select the QuickBooks company file you would like to sync with Work.
If QuickBooks Desktop is currently running during the setup process, you will have the option to choose the Company File currently in use, or browse for a different one.
If your QuickBooks Desktop is closed during the setup process, you will be prompted to browse your system directory and select a Company File to sync.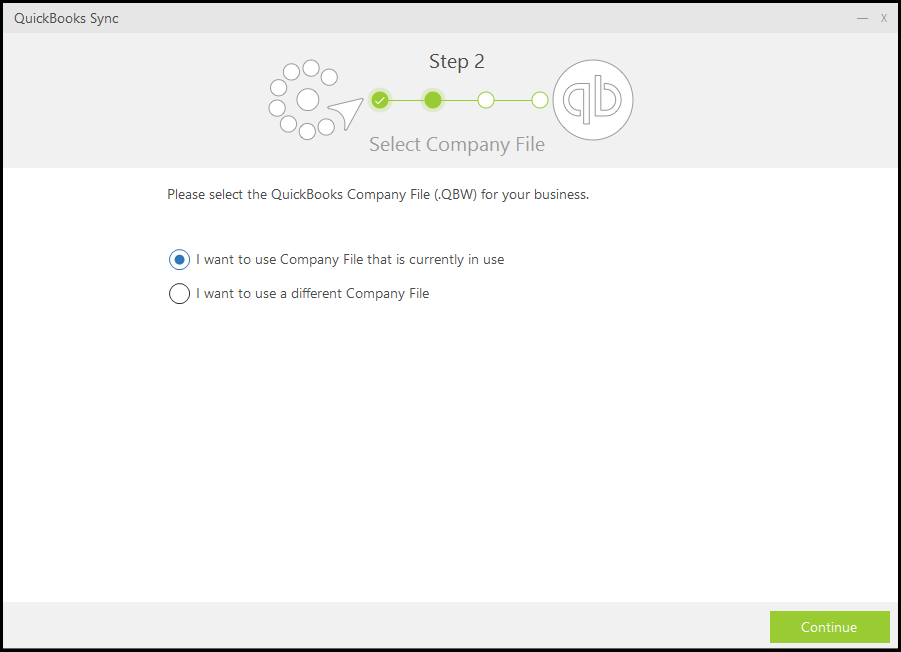 Step 3. Authorize access
You need to authorize Work to access your QuickBooks Desktop account. This page displays the instructions on how. On the options, we recommend you choose the last one and click "Continue".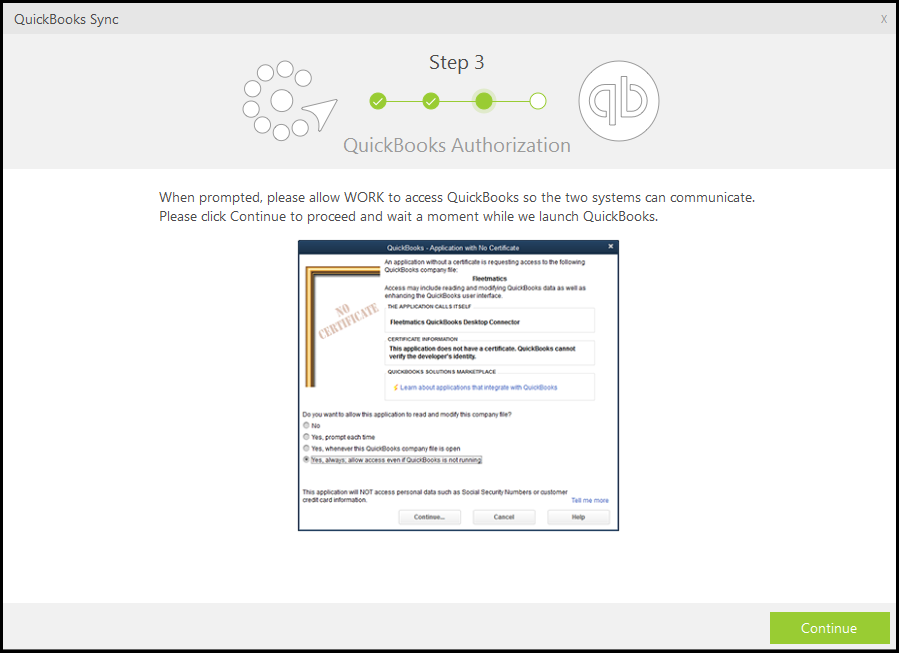 Step 4. Configuring your Settings
To configure your Sync Settings, there are 3 tabs on the main app screen. Below you will find all the information from each of these tabs:

Selecting Clients
Since a Client match is a required for Invoices and Payments to sync over to QuickBooks, the Clients checkbox will be selected by default.
A 'Use default state' checkbox is also available and will be checked by default. If a customer record from QuickBooks doesn't have the full address including State, the Sync will use the default State set in Work(Settings>>Company Details>>Settings)
Admins can choose to un-check this option. However, you might encounter the following error while syncing: "The Client record has an unknown State of Country <United States>. Please add a State to the QuickBooks record or enable the 'Use default State' in the Work Sync settings and synchronize again."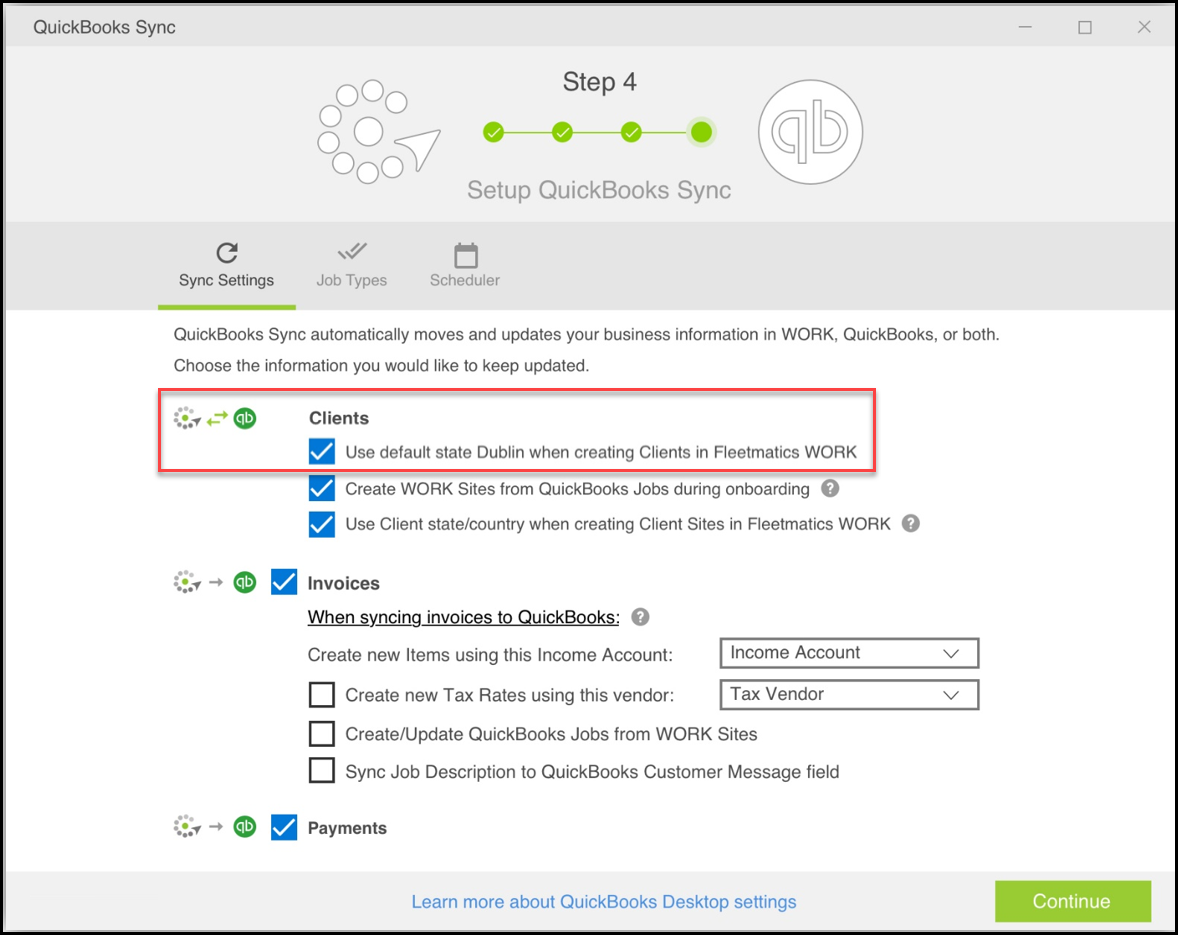 Selecting Sites
Admins can select "Create Work Sites from QuickBooks Jobs during onboarding" to sync over QuickBooks Jobs as Work Sites.
A 'Use Client state/country when creating Client Sites in Work' checkbox is also available. When this option is selected the QuickBooks Job record will use Country and State information from the QuickBooks Customer record.
Admins can choose to un-check this option. However, you might encounter an error while syncing. Learn more about that error here.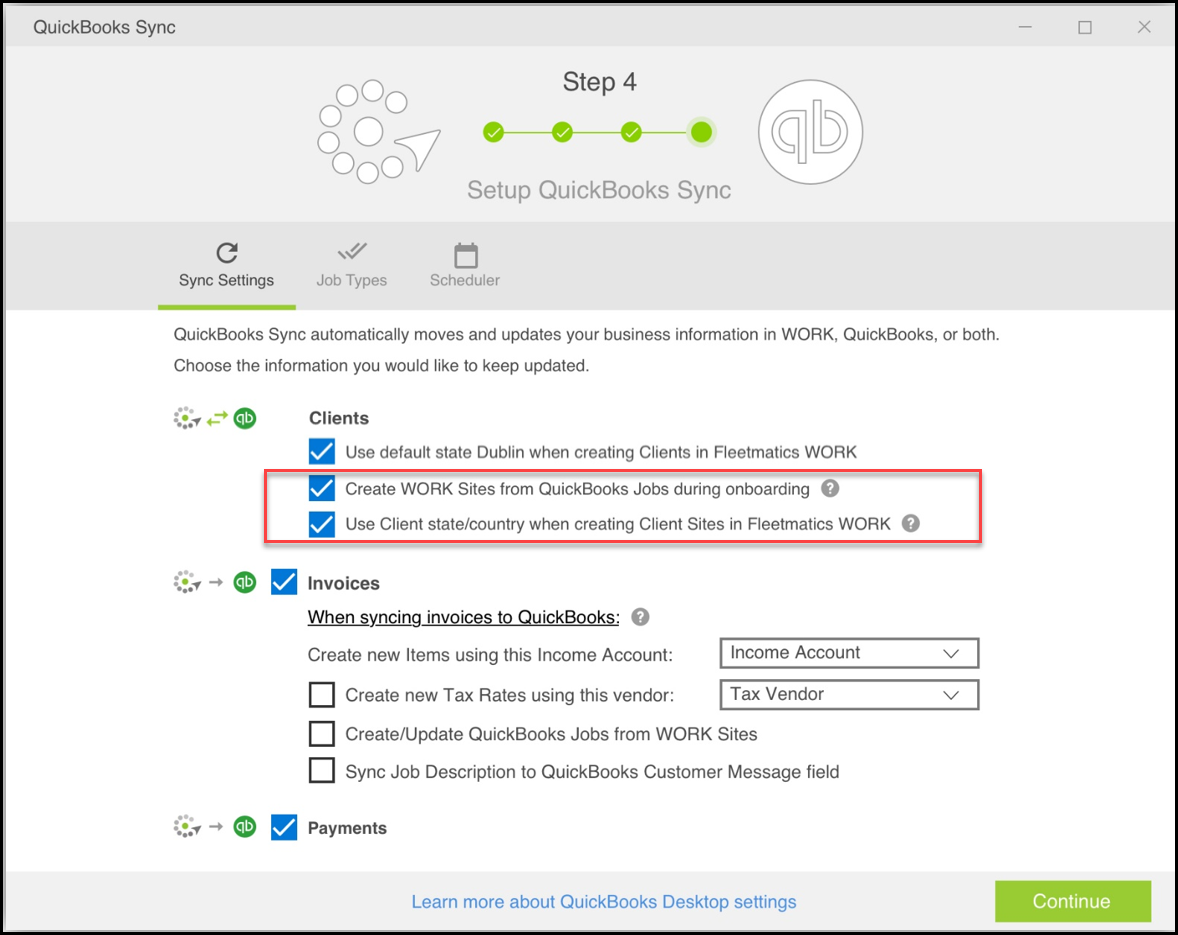 Selecting Invoice
Admins are able to send Invoices created in Work to QuickBooks Desktop by selecting Invoices in Sync Settings. This is an optional setting and if selected Admins will be able to set up some additional settings.
'Create new Items using this Income Account'
This is a required field when Invoice is selected, the drop-down menu will display all the Income Accounts that are set up in QuickBooks.
You will be able to select which Income account you would like to use from a drop-down menu.
When syncing Billing Items, the items will be posted to the selected Income account.
'Create new Tax Rates using this Vendor' - This is an optional checkbox.
When enabled, Tax Rates are pushed to QuickBooks along with the Invoices.
On selecting this option, the Vendor drop-down becomes active which displays all the Vendors you have set up in QuickBooks. Choose the Tax Vendor you'd like to use.
'Create/Update QuickBooks Jobs from Work Sites'- This is an optional checkbox.
When enabled, Work Sites will be pushed to QuickBooks Desktop QuickBooks Jobs along with the Invoices.
'Sync Job Descriptions to QuickBooks Customer Message field'- This is an optional checkbox.
When enabled, Work will be push Work Job Descriptions to QuickBooks Customer Field on the Invoice.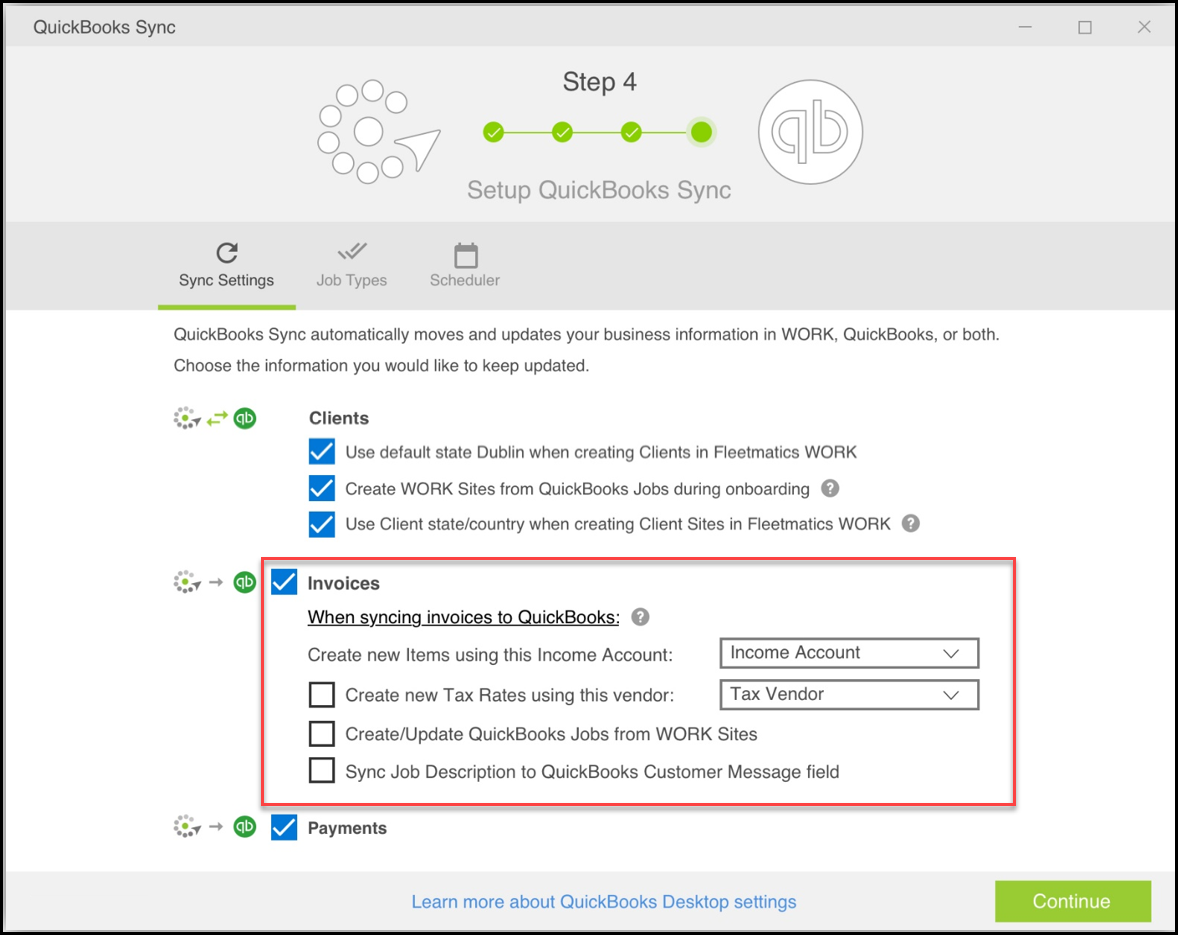 Selecting Payments
The Payments checkbox will only become active if Invoices has been selected.
Payments will be mapped to the Customer or the Job (if "Using Job Locations" have been enabled) in QuickBooks Desktop.
Payments will be allocated to the account already selected in your QuickBooks settings.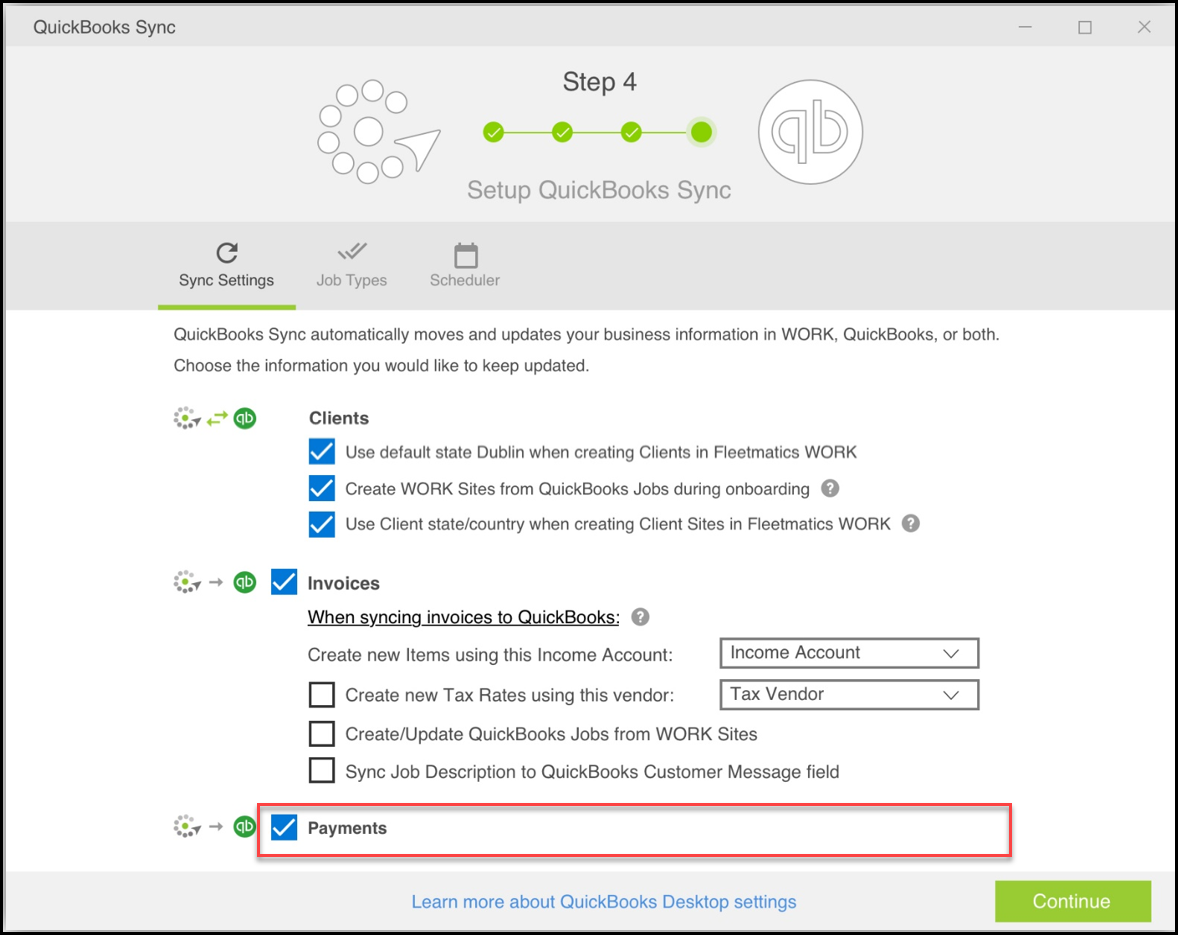 Job Types
Job Types is an optional setting. It allows an Admin to choose which of their Job Types from Work will match their QuickBooks Classes when syncing Invoices.
The Job Types tab will be grayed out (inactive) unless the Admin has selected to sync Invoices in Sync Settings.
A list of all Work Job Types is displayed on the left side of the page. On the right are drop-down lists that will allow the Admin to select the equivalent QuickBooks Class for each type.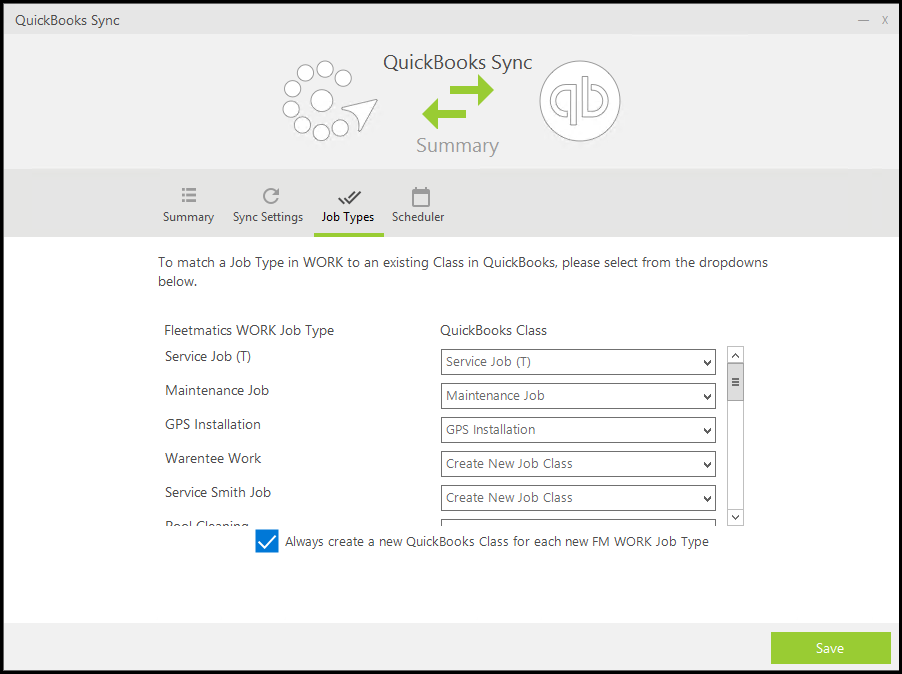 The drop-down menus options that an Admin will be able to choose from:
Create New Job Class – a new QuickBooks Class will be created when syncing invoices for the Job Type indicated.
None - No Class will be mapped to the Invoice for the Job Type indicated.
<<QuickBooks Class Name>> - This Class will be mapped to the Invoice for Invoices with the indicated Job Type.
An 'Always create a new QuickBooks Class for each new Work Job Type' option can also be selected. When checked, QuickBooks Desktop will create a new Classes when new Job Type are created in Work.
NOTE: The Job Types tab will not be available if you've disabled "Use class tracking for transactions" in your QuickBooks Desktop settings.
Scheduler
This is a mandatory setting. Using the Scheduler tab, Admins can choose how often Work syncs with QuickBooks Desktop. There are 2 options for scheduling sync:
"Sync data every" - Admins can select an interval of 1, 2 or 3 hours, where the sync will run automatically
"Sync data daily at" - Admins can choose to sync once a day at a particular time of the day.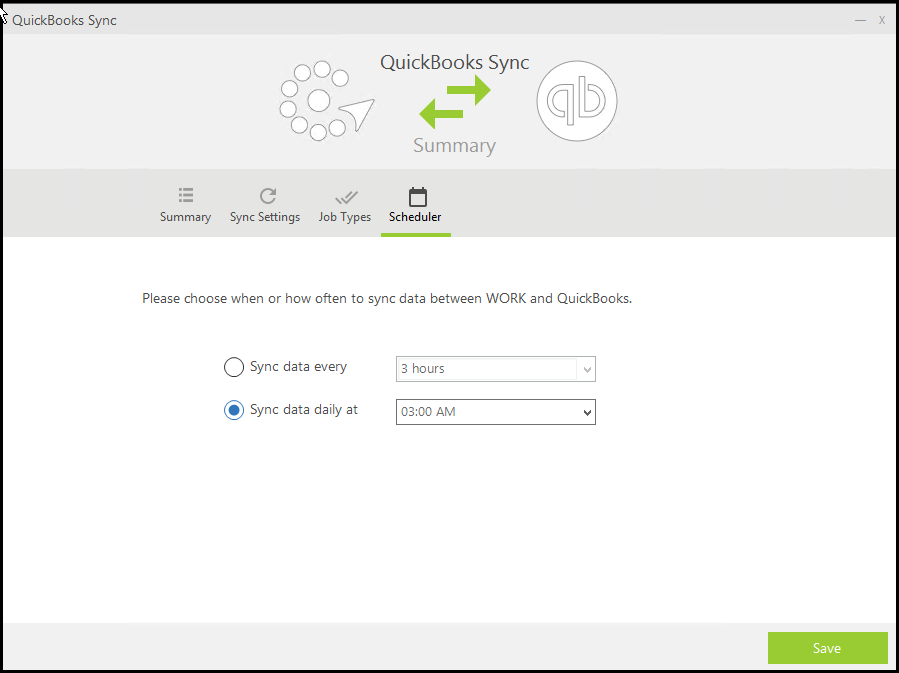 Onboarding
The goal of the onboarding process is to automatically transfer your existing Customers in QuickBooks to Work, and vice-versa. The onboarding process, therefore, eliminates the need for manual exports and imports of data.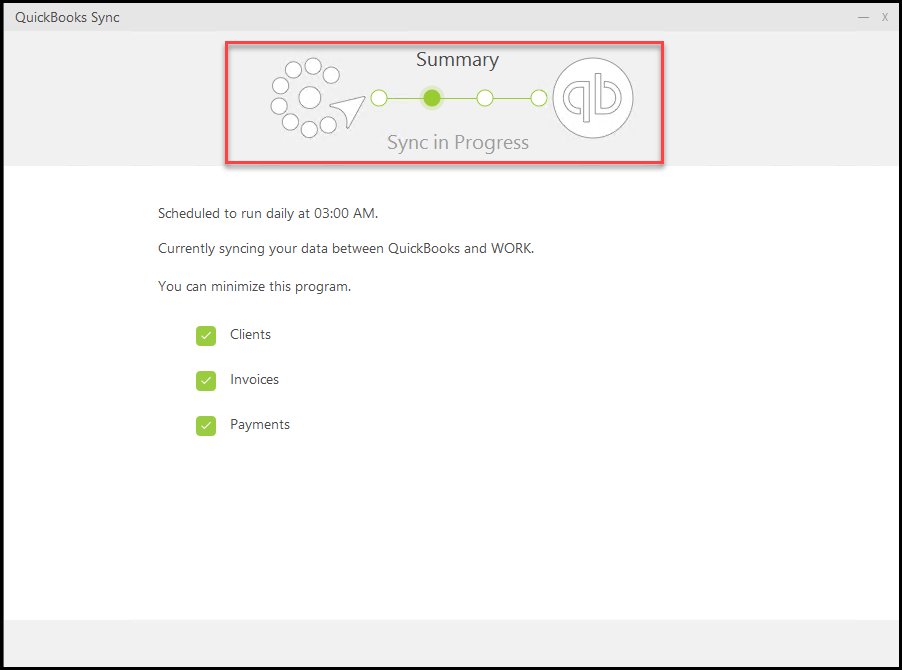 Onboarding checks your Customer Records in QuickBooks Desktop and your Client Records in Work (if there are any).
The onboarding process checks if records in one system find a match in the other, in the case you already have the same Customer/Client in both systems
If there are no matches found, the onboarding process will create the necessary records in the correct system to make sure all records match.
Sync Complete and Set-Up Summary
Once the onboarding is finished, a completion page will display the number of client records that were synced, as well as the number of errors that occurred during the onboarding. This page will also display the information you've chosen to sync.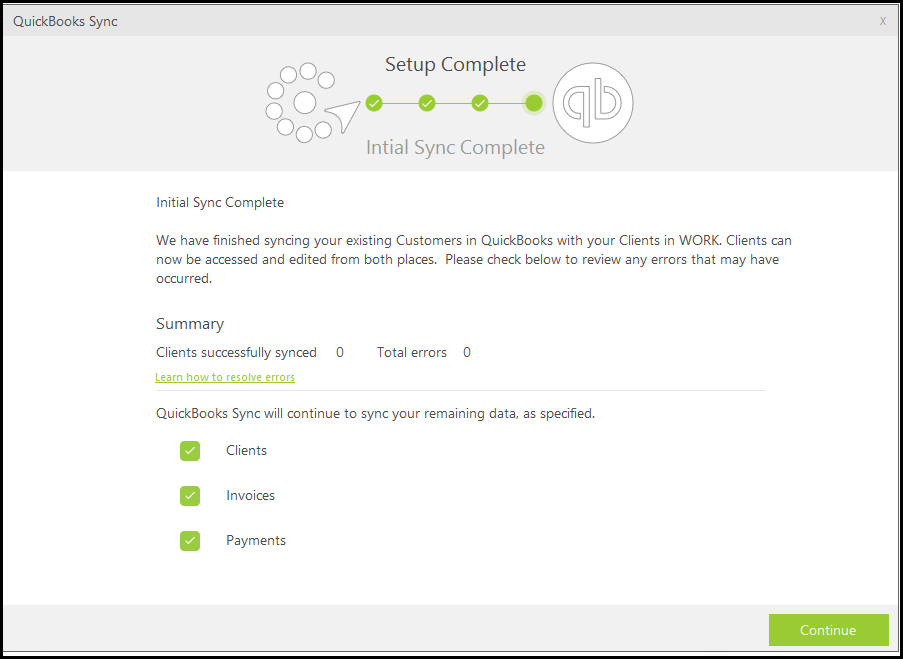 Summary tab
This summary page displays all your selections from the set-up process. You can click on any of the other tabs to make any changes to your previous selections.
Other actions that you can perform on this page:
Sync Now – Allows Admins to force a sync outside of the schedule you selected. Clicking this link will push new information or update any changes made since the last sync.
View sync history – Allows Admins to view all the dates and times that the Work and QuickBooks synced.
View error log – Will open an Excel file that will list all errors that occurred during a sync. To learn more about errors and how to troubleshoot them, see Troubleshooting QuickBooks Desktop Sync.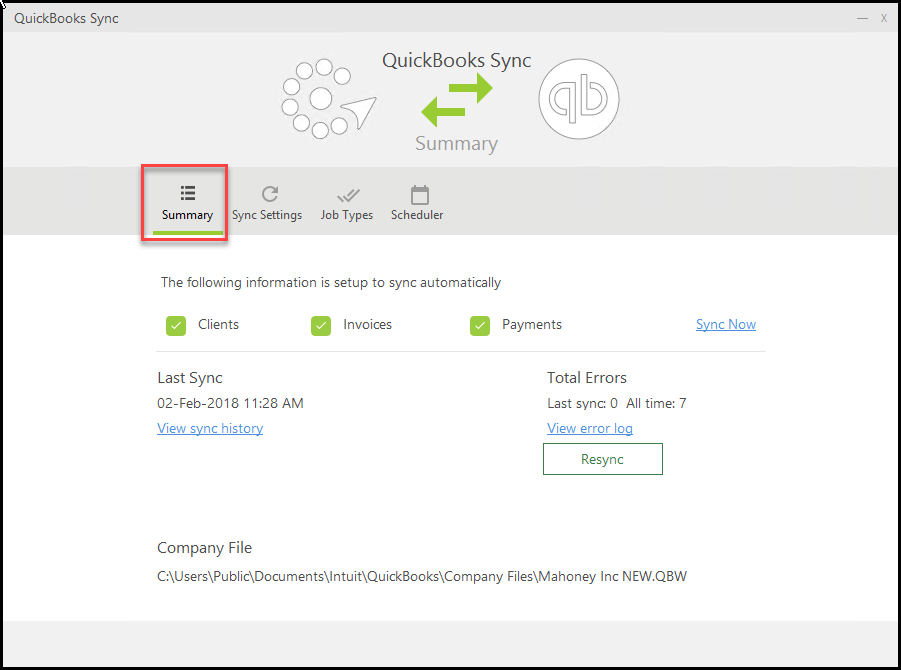 Re-opening QuickBooks Desktop Sync after Setup
Admins can exit the sync app by selecting the "X" in the top right corner of the window.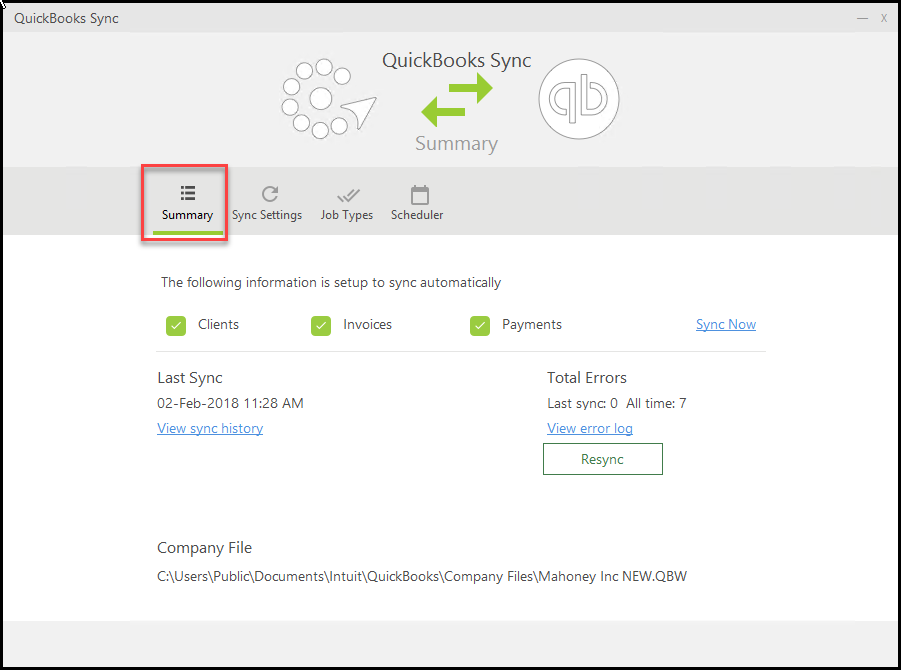 Admins will notice that the two-way sync between Site/Jobs is grayed out. These options are only available during onboarding, from that point forward only the Client/Customer, Invoice and Payment sync will continue.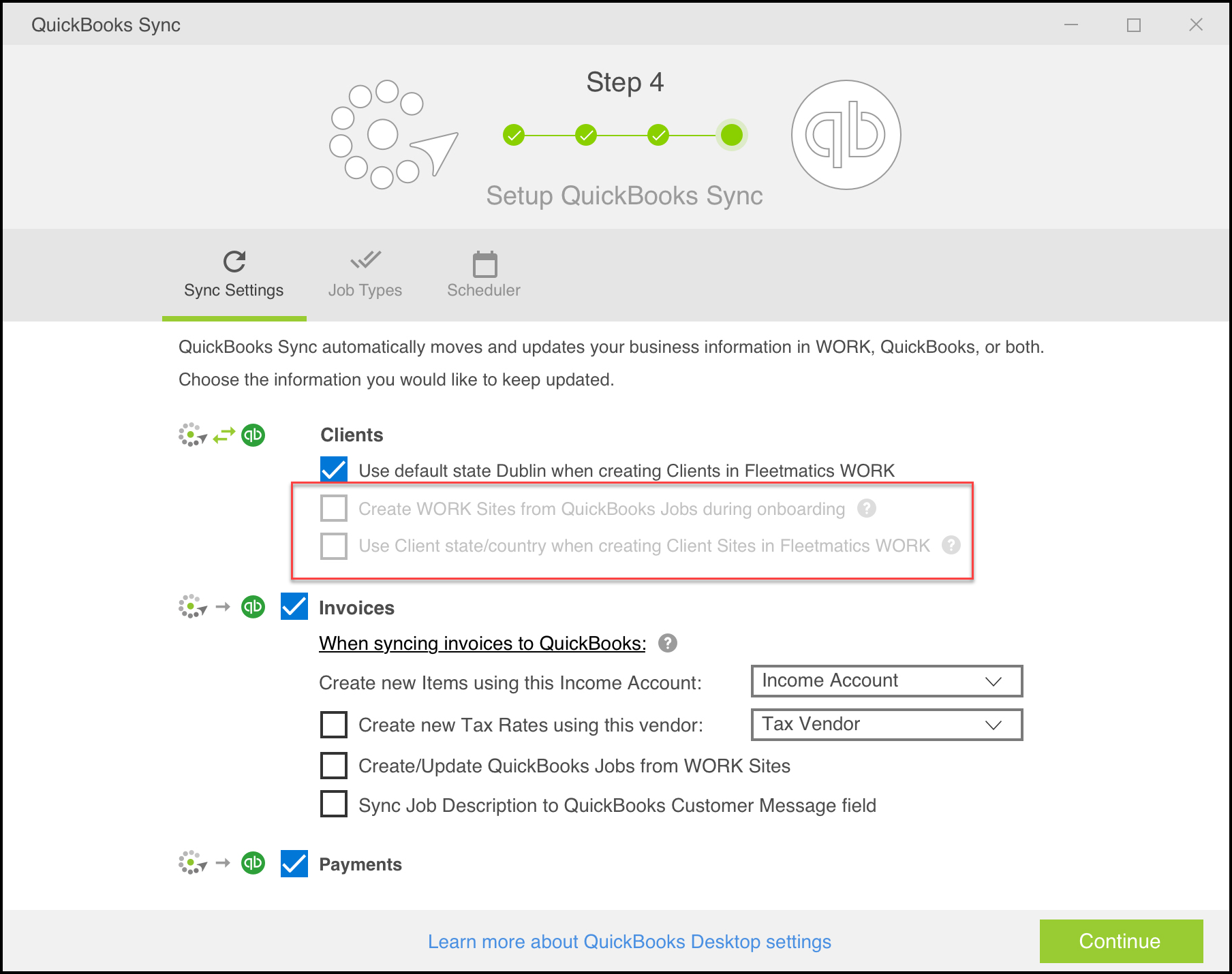 QuickBooks Desktop Sync will continue to run in the background, as long as it remains open in your computer's System Tray. To go back to your settings, simply click on this icon anytime.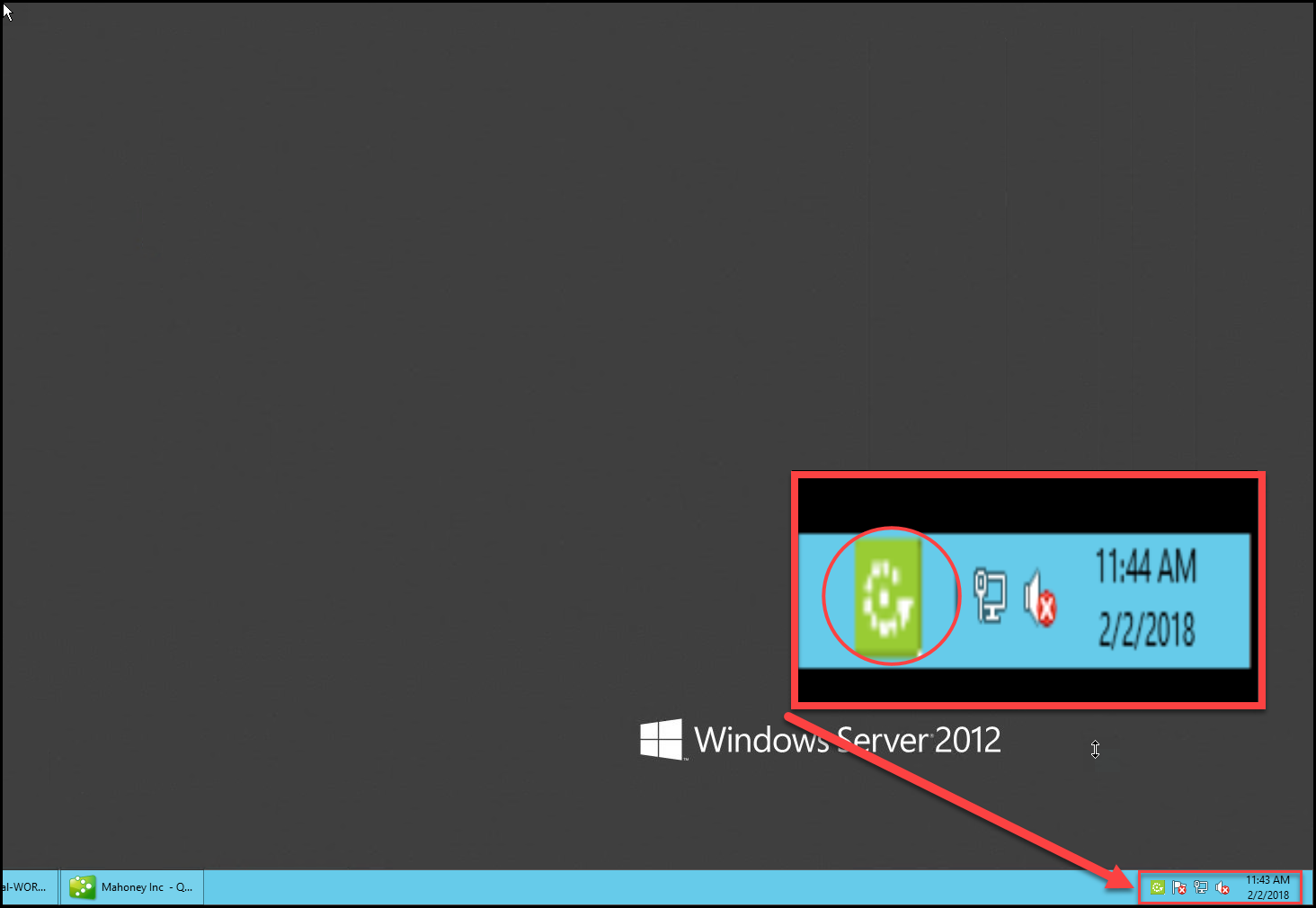 For more information on what information is synced, check out What information syncs with QuickBooks Desktop Sync?